At PGS we have a proud history of delivering an outstanding education to our pupils for nearly 300 years. The secret to our success has always been to look forwards.
PGS provided the foundation of community and knowledge for where I want to be at 25.
Rory, OP
Our outward looking and contemporary approach means that we are able to constantly innovate and develop our provision to ensure that pupils thrive when they are with us and reach their goals in a world beyond school.
This diverse and innovative approach is achieved by working closely with our partners. We collaborate with universities, local businesses, fellow schools and parents to ensure that we are creating a sustainable future for our school, our community and most importantly our pupils.
Our commitment to delivering a sustainable future is not simply an element of our curriculum, it is integral to every part of school life. Key themes involve environmental stewardship, diversity and inclusion, widening access through bursary support, engaging fully with generational intelligence and ensuring that our facilities complement a first-class 21st century education.
Giving young people a voice is something that I believe to be essential and invaluable because we are the future and if we're not involved in important discussions, so many significant experiences and perspectives will be excluded.
PGS Pupil, Year 12
---
Generational Intelligence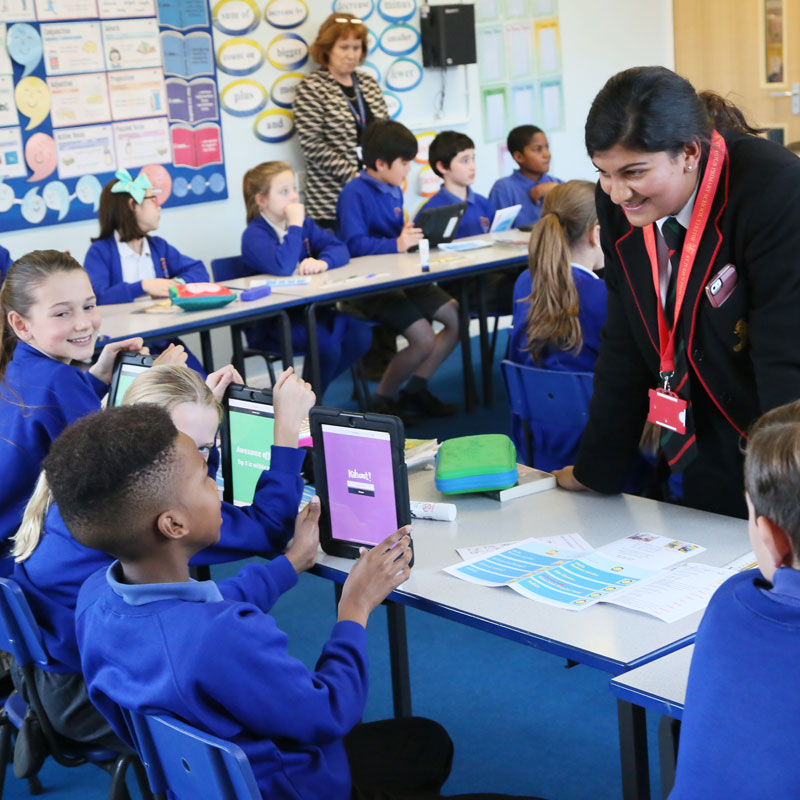 At the heart of our community are our people – our pupils, staff, parents and partners.
As we look to the future, people will continue to drive everything that we stand for – with our pupils being our finest ambassadors. We are committed to nurturing young people who are adaptable, engaged and ready to forge their own pathway in the world beyond school. The PGS Core values underpin our commitment to the personal growth of everyone in our community.
---
Inclusivity & Diversity
Celebrating difference is at the heart of PGS. In 2013, the PGS Pride society was formed and created positive cultural shifts within our community. This mission has extended beyond PGS Pride to creating a whole school culture which has inclusivity at its heart, and so our focus has broadened: in 2019, embedding anti-racist practices at PGS became a core focus, and in 2020 PGS Pride becomes PGS Diversity and Inclusion. This reflects our ongoing commitment to value every individual, to celebrate individuality and to place inclusion at the heart of our education and care for pupils
I am incredibly grateful for the opportunities my bursary to PGS afforded me. Whether it was being around fantastic teachers who pushed me to think harder in each lesson, or working on core handling skills out at a muddy Hilsea, I remember my time at the school with great fondness.
Jacob, OP
---
Broad Access
William Smith founded PGS to serve the city where he made his home and his career. Since 2015, through the establishment of The William Smith Fund, the school has made a commitment to providing significant fee assistance to talented pupils of modest means, to enable future generations of Portmuthians to benefit from the opportunities offered by the school. In doing so, we honour the intentions of our founder, and his commitment to his city and locality. We preserve the historic character of the school, its sense of spirit and aspiration, and its commitment to fostering academic endeavour. And we continue our commitment to being a diverse and grounded community which prepares all our pupils for life beyond school. Over the next five years and beyond, we commit to making significant steps in broadening access, and increasing the proportion of our pupils who receive means-tested assistance and transformational awards.
Environment
Alongside our commitment to people, we are equally committed to our environment. We believe education is of paramount importance in this vital area for humanity.
We know it is imperative that we make substantive changes to our day-to-day practice as we take active steps towards becoming environmentally positive. With our pupils and staff in the lead, we are keen to be responsible and ethical neighbours. We want our pupils to leave PGS responsible citizens who understand and promote environmental citizenship, helping to safeguard our planet for generations to come.
Case Study: Amy Nguyen, OP