The Portsmouth Grammar School is situated in the heart of the vibrant, cosmopolitan city that Portsmouth has become.
The school is in Old Portsmouth, just metres away from the Solent and on the street where Nelson spent his last night before leaving on HMS Victory for the Battle of Trafalgar. We embrace our location at the heart of one of the UK's most entrepreneurial cities, on the shores of the Solent, and only a short distance from the South Downs.
The city is our extended campus and enjoy excellent relationships with many city organisations. We are just minutes away from Portsmouth Cathedral, Portsmouth University, the New Theatre Royal, the King's Theatre, the Historic Dockyard and The Mary Rose Museum. The opportunities that our location offers gives our pupils are tremendous.
As a Choir School, we share a very close relationship with St Thomas' Cathedral in Old Portsmouth, and PGS pupils are central to the choirs which sing daily in the Cathedral.
The Pre-School can often be found on Southsea Beach as they explore the outdoor environment as part of their Beach School learning. Pupils in the Junior School visit the Mary Rose to delve into their Tudor topic in more depth and visit the Spinnaker Tower for a bird's eye view of Portsmouth when they learn more about the city their school is part of.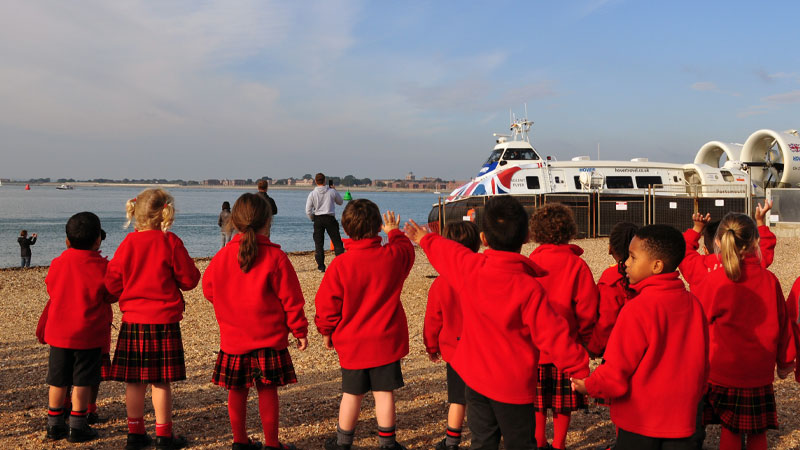 Senior School pupils engage with other local schools through cultural festivals and outreach activities, as well as being able to easily access events such as the STEM enrichment days offered by the INEOS America's Cup team based a few minutes' walk away. Our Sixth Form pupils work with local charities through the dynamic 'Community Action Workplace' enrichment programme that takes them out into the city to work with charities, social enterprises and local schools such as the Mary Rose Academy, a school for Special Educational Needs in the city where pupils recently worked to create 'sensory stories' for the pupils as requested by the staff at the school. These are just some of the examples of how the city is our extended campus.